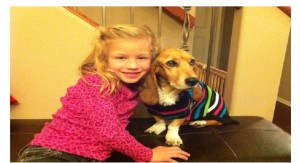 Today, we bring you a wonderful article/story written about Hope the Basset Hound X who has crossed Rainbow Bridge. Please read Sophie's article and see what she is doing for the BTPRSM in Hope's honor. *Get the tissues ready.*
Hope was a beautiful young Bassett Hound cross dog that was found abandoned this past winter near St. Andrews just outside of Winnipeg. It appeared that Hope had been out on her own for awhile as she was extremely malnourished, emaciated, her nails were very overgrown and curled under her pads. She was not spayed, had no tattoo, no microchip, no collar with tags….but she still had the kindest eyes you'd ever seen. Hope was taken to a vet clinic in Winnipeg. They trimmed her long over grown nails, fed her some food/water and kept her safe and warm for a few days while the Animal Control waited for any word from a possible owner. No one called or had any information who she belonged too….this was when I (Sophie) met Hope. Hope was picked up from the vet clinic where she was waiting and was brought directly to the vets at Southglen Veterinary Hospital. As soon as they examined Hope they knew something was not right….this sweet girl had been suffering for a few weeks.
Hope put up a good fight but her problems were just too severe to overcome.
I have decided than this year for my birthday, instead of presents, I would like a donation in Hopes name be made to help the rescue group who helps give dogs like Hope a second chance. To donate please go to www.bostonpugrescuemb.com and click on the donate button.
Thank you,
Sophie
To see the original story chick on … Hopes Story