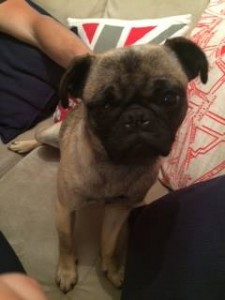 Meet Ruby!
Ruby was picked up as a stray dog along with Max in Morden, MB.
They both stayed at the Morden Vet Clinic for a week and no came to retrieve them, so the staff at Morden Vet Clinic signed them over and released them into the care of our rescue.
Ruby is roughly 2-3 years old. She is a very sweet girl and gets along great with other dogs. Ruby is kennel trained for when no one is home and for sleep.
She is working on his house training and it's getting better every day. (*Once she is spayed, this will improve drastically.)
Ruby has had her first set of vaccines and will be going for her spay and booster vaccines on July 18th. She will also have her narrow nostrils widened, elongated palate trimmed, and get a dental cleaning. She will be tattooed and microchipped the same day. Ruby also will have her right eye removed, as she is unable to see out of it and we do not want her to cause further injury to it.
Ruby is meeting with a potential forever family on Monday, July 7th. We will keep everyone posted on how it goes. 🙂