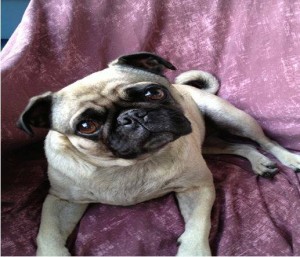 Meet Peggy Sue!
Peggy Sue is a 5 year old, fawn, female Pug. She comes to us as an owner surrender.
Peggy Sue is very sweet and loving. She gets along great with other dogs and loves to cuddle with her family members. Peggy Sue loves playing fetch with toys and will even bring her toys to you when she is ready to play.
Peggy Sue would do best with children who understand dogs. She does love to play tug of war and makes some funny, loud noises, which may scare a child who doesn't understand that she is just being vocal.
Peggy Sue is spayed, up to date on all vaccines, Heartworm Tested (Negative) and is scheduled to have a dental cleaning and her narrow nostrils widened on Tuesday, February 11th.
We are accepting adoption applications now, but Peggy Sue won't be available to go on home visits until after she has healed from her nose surgery.
If you are interested in learning more about Peggy Sue, please email us at btprmb@gmail.com