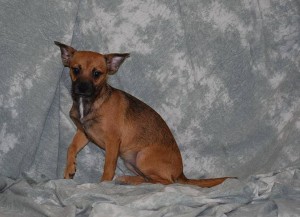 Meet Mya!
Mya is a 5-month old, female, Boston Terrier/Whippet X.
Mya is super cuddly and affectionate. She loves being held and cuddled by her foster parents!
Mya came into our rescue from a rescue who pulled her from a high-kill shelter in the United States. She has been fully vaccinated and has already been spayed. She is Heartworm NEGATIVE and will be starting her Heartworm medications. Mya still needs to be micro-chipped, but we will do that before she is adopted. 🙂
We are still learning about Mya as she only came into our care (July 20/14). More photos and videos will be posted soon.
If you are interested in learning more about Mya, feel free to email us at btprmb@gmail.com