Meet Scooter.  He is in our Forever Foster program, because he was diagnosed with Cushings Disease.  His monthly medication cost approx. $200-$250 per month.  Since being on the medication, his foster mom has seen a lot of changes in him. Here is an update from his foster mom.
September 3, 2013: "Hi, We love him too. He will willingly lie on me on the couch and get his belly rubbed now. He will come by and try to jump up if I don't do it every day! I pick him up all he time too and he's fine with that…even gives me kisses when I do it.
He seems very healthy. His fur is really shiny. He's losing some weight…seems to have some definition at his hips/waist. He's good with jumping up on the couch and bed…and jumping down. We have taken him to the off leash park several times for about an hour and he's fine. We do a 30-45 min walk most days and he's good with that too now.
He loves to play fetch inside and out too. He also loves to stand on his back paws by the cookie tin and tell us he needs a doggie cookie. Lol
I took him to work to meet my friends and he was very well behaved. When I stopped to talk to someone he just lay down and went to sleep. Little gentleman. He did really well at my friends house. Even with a bunch of little kids.
So far so good. He's a great little dog and fits in really well."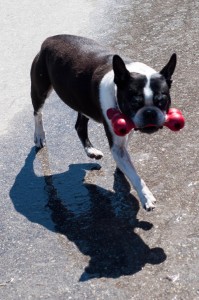 If you would like to sponsor Scooter through our Forever Foster Program, please email us at btprmb@gmail.com