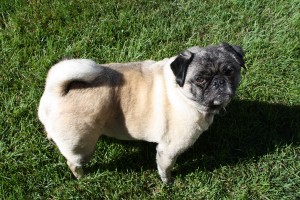 Maggie Update:  Maggie is doing great!  She has healed nicely after her surgeries.  She is a sweet girl, gets along great with other dogs, house trained.
Maggie came into rescue as an owner surrender with her older brother Eddy. Maggie is 8 years old and good with children, other dogs and showed little reaction to Billa the cat at Southglen Vet.
September 1st Update: Maggie and Eddy went to the vet after pick up on Sunday, an we found out that Maggie has bladder stones and a double ear infection.  Maggie got her Heartworm Test done, which was negative and her first Bordetella Vaccine.
She will be having an emergency Cystectomy on Tuesday, September 3rd. She will also have a complete dental with any rotten teeth removed, her elongated palate shortened and narrow nares widened.  Maggie will also get a microchip as well. On Wednesday, September 4th, our vet will update her Rabies and Distemper/Parvo Vaccines, so she will be up to date on all her vaccines.
Please stay tuned for updates while Maggie heals from her surgery.
We are currently accepting adoption applications for Maggie. We would like it if Eddy and Maggie could find their forever home together, as they have grown up together for the past 8 years, but we think they could be separated into homes that have other dogs.