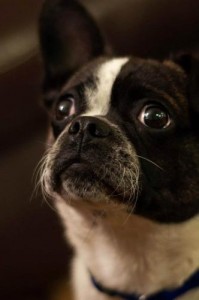 Hi, I am Finn.  I was found as a stray in Charleswood and no one came to claim me at the pound, so I was transferred to Winnipeg Animal Services Agency and they contacted the BTPRSM.
I am a male Boston Terrier X. The nice vet at Southglen Veterinary Hospital thinks I'm probably part Jack Russel Terrier or maybe something else. I am between 1 and 2 years old.
I was wandering outside for a while but I know my manners. I know car rides are for sleeping so I can be refreshed and ready for whatever adventures await at the end. I like other dogs and love meeeting new people. Cats are fine as long as they don't run away or try to start something with me.
Oh, and I'm housetrained.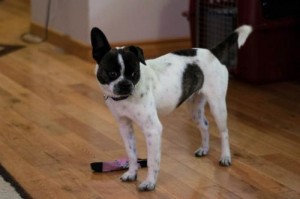 While I was visiting the animal hospital I was given my vaccines, was tested negative for heartworm, had my ears cleaned and even had my toenails trimmed. The nice people who cleaned me up said I was a perfect gentleman.
So far I have all my boy parts but that wil change when I go back to the vet's office in May 10th. After I heal up I will be ready to meet my new family.
If you are, or know of anyone looking for a furry friend to be your loyal companion I may be the boy for you. I'll join you for long walks and marathon movie days on the couch. I'll even share the popcorn. You can tell me all your secrets; I'll keep them safe. All I ask in return is your love and attention…. and maybe the odd belly rub.
If you'd like to meet me, please send an email to btprmb@gmail.com and someone will help to make it happen. My adoption fee is $350 and it covers all my vaccines, neuter and Heartworm Test.
Hope to meet you soon, xoxo Finn