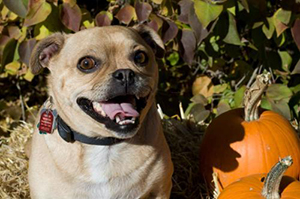 We are happy to announce, Ernie has found his fur-ever family!!!!
Ernie was owner surrendered to the rescue with his littermate Bert. Ernie is a Chug, which means he is a Chihuahua-Pug cross.
Ernie is a very outgoing and loving boy. He has lived with small children and done well with them, but we feel he would do better with older children.He is house trained. He loves his new foster home and is learning that he will find his forever home soon.
Ernie enjoys the company of other small dogs, but can get a bit of an attitude around them sometimes. It does take him a while to warm up to other dogs and he sometimes needs to be know that he can't be the boss. He thinks the cats are a lot of fun to torment and to bug.
Ernie is on meds for mild seizures. He has only had one seizure since being in the rescue's care. His meds are approximately $20/month.