Dixie is an eight year old female Boston Terrier.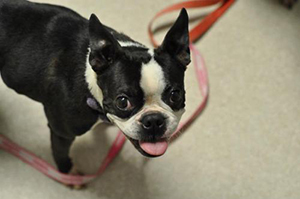 She was surrendered to our rescue by her owner as they were no longer able to care for her or her sister Abby.
Dixie is the sweetest little girl you will ever meet. Even though she is eight years old you would never know it. She has the energy of a two year old dog.
Dixie loves to play fetch and will even take her favorite toys to bed with her.
She would do better with children over the age of five years old as she tends to get a little shy/nervous around the excited younger ones.
We believe Dixie suffers from a grain allergy and we have switched her to a grain-free dog food.
Dixie is scheduled for surgery on Friday, January 11th to have her narrow nares widened and her elongated palate trimmed. This will help Dixie breathe better and snore less. 🙂 She will also have a dental cleaning and have any rotten teeth extracted at that time.
Dixie's adoption fee is $300.
If you are interested in meeting Dixie, please send us an email to btprmb@gmail.com