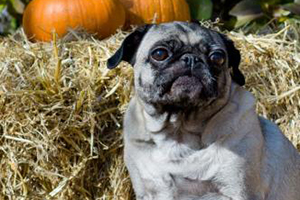 Cassie is an eight year old female fawn pug who was owner surrendered to the rescue.
Cassie suffers from a collapsed trachea. This means that when the air passes through her airway there is a section where her airway is smaller and it take her longer to process the air into her lungs. Even though Cassie has a collapsed trachea it doesn't stop her from doing things she likes. She still gets excited to go for a walk, or play in the back yard with her foster sister Ella.
Cassie will be able to enjoy life to the fullest. She actually can self regulate herself and knows when she shouldn't over exert her energy.
Cassie will be adopted to a home that knows her limitations and understands her medical conditions. She is up to date with all her vaccinations, is spayed and has tested negative for Heartworm and is on Heartworm preventive medication.
Cassie gets along with other dogs and is fine around cats. She loves to find her favorite toy and cuddle up on the couch.
Cassie's adoption fee is $250. If you are interested in adopting Cassie, please check out our adoption process page.