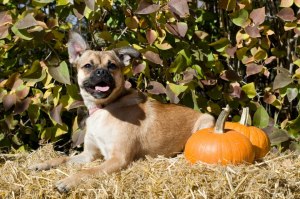 The Boston Terrier & Pug Rescue of Southern Manitoba would like to introduce you to Celia.
Celia is a one year old Pug X that was found as a stray and was surrendered to our rescue. We looked for Celia's family and no one came looking for her or reported her as lost with Winnipeg Animal Services or Winnipeg Humane Society. 🙁
Celia had no identification on her when she was found running across a busy intersection in the St. Vital area so we were unable to trace her back to any family.
Celia is a very sweet and sassy little girl. She is a bundle of energy and loves to play with her foster brother Mack. Mack and Celia play wrestle all the time and love to go to the dog park.
Celia has been spayed and has had all her vaccinations done up to date. She tested negative for Heartworm and is on Heartworm preventive medications.
Celia is trained to sleep in the kennel for night and has almost mastered her house training. Once she knows her routine she knows where to go when she needs to go potty outside.
Celia's adoption fee is $350.
If you are interested in adopting Celia the first step would be to complete an adoption application on our website at www.bostonpugrescuemb.com . The adoption application can be found under the "Adopting A Dog" tab.