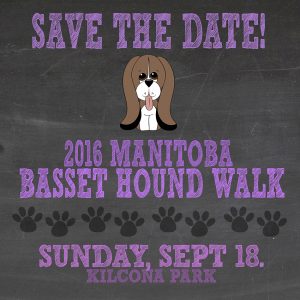 Calling all bassets from across the province! Make sure you mark your calendars because you will not want to miss the annual Manitoba Basset Hound Walk taking place Sunday, September 18, 2016 from 1:00 p.m. to 3:00 p.m. at KilCona Park.
This event is a fun afternoon of catching up with one another, but there's also a serious side as we use this gathering to raise funds for the rescue. Since 2013, the Boston Terrier and Pug Rescue of Southern Manitoba has helped with seven Basset Hounds. We hope to see many of them out at this event!
If you would like more information on this event, please visit the Manitoba Basset Hound Facebook page.